Mobile Modules Make Storage Units Portable
Mobile Storage Units are a recent development in the storage industry, where most companies offer only the facilities to keep your belongings; we bring the portable storage units to your premise.
Once you book our storage units, we'll be right over as soon as you say when.
We've got a "Mini-Mod" at 7 cubic meters and a "Maxi-Mod" at 10 cubic meters.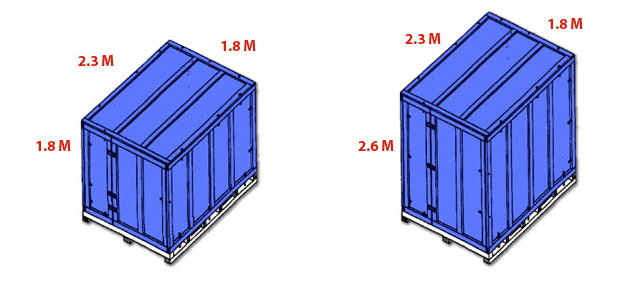 Which are great for all sorts of items from smaller compact items like packed boxes of clothes, toys and collectibles, and files to bulkier items like furniture, machinery and other equipment. Our staff have lots of experience to give you the right advice and help you pick the right Module for you so that you pay for just what you need.
But not only space is important, so it keeping your stuff safe! Our Mobile Storage Units are breathable because they're made from top quality plywood which helps the interior to be easily ventilated, keeping moisture and all the icky mould particles away from your precious goods inside. We even have climate controlled units for extra measure if you want to be Super protected.
Now don't worry about how efficient we are. Supercheap are experts at this (our team comprises of AFRA (Australian Furniture Removalist Association) trained and certified men and women) so even while we are taking the best of care of your things, we are speedy about it too! When your items are loaded into our Mobile Storage Units, they head straight to our facilities. And the same for when you need your things back to where you are!
So forget about the traditional way of doing things and let Supercheap Storage handle all your storage and transportation needs. Take the step and drop us a call or send us an email to kickstart your Supercheap experience today.